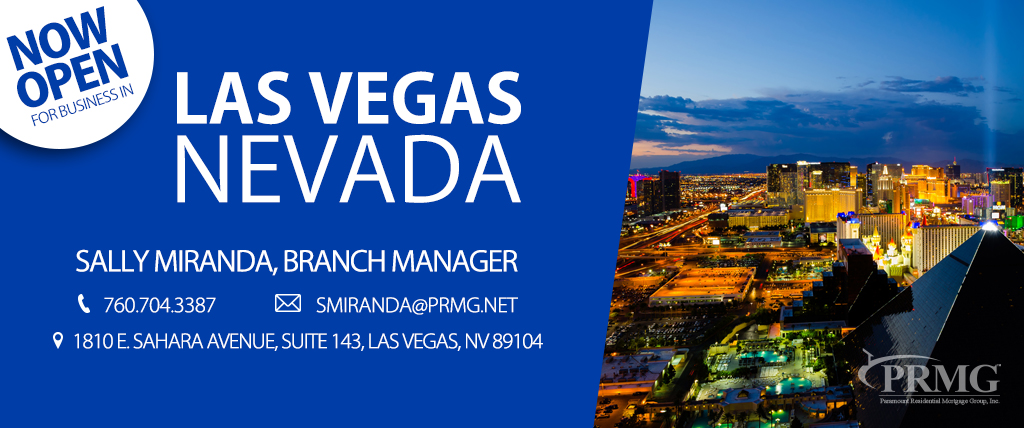 California-based mortgage lender, Paramount Residential Mortgage Group, Inc., is expanding its West Coast region by opening their new Nevada location in Las Vegas, NV.
The newest location will be managed by twenty-five-year mortgage veteran; Sally Miranda. Sally has worked for Cross Country Mortgage, Guild Mortgage, First California Mortgage, and the Miranda Group Mortgage, to name a few.
She successfully led a small team of Mortgage professionals to close over 20 Million per month, consecutively for over 10 years. With a consecutive milestone achieved as such, and a well-seasoned skillset, Sally truly understands what is needed for any retail branch to prosperous in the industry today.
"As a new branch manager with PRMG my team is ready to embrace the Las Vegas market and culture and make the PRMG Las Vegas branch your number one stop for all your lending", said Miranda.
Sally will work closely with PRMG Southern California Regional Manager, Marlene Hoover and ultimately report to PRMG SVP, Director of National Retail Production; Chris Sorensen.
The new PRMG Las Vegas location is looking for Motivated Loan Originators to support the PRMG mission to being "Progressively Better in All that We Do". If you're ready to join a top-tier team in PRMG's newest Nevada office, please contact Sally Miranda at 760.704.3387 or SMiranda@prmg.net.