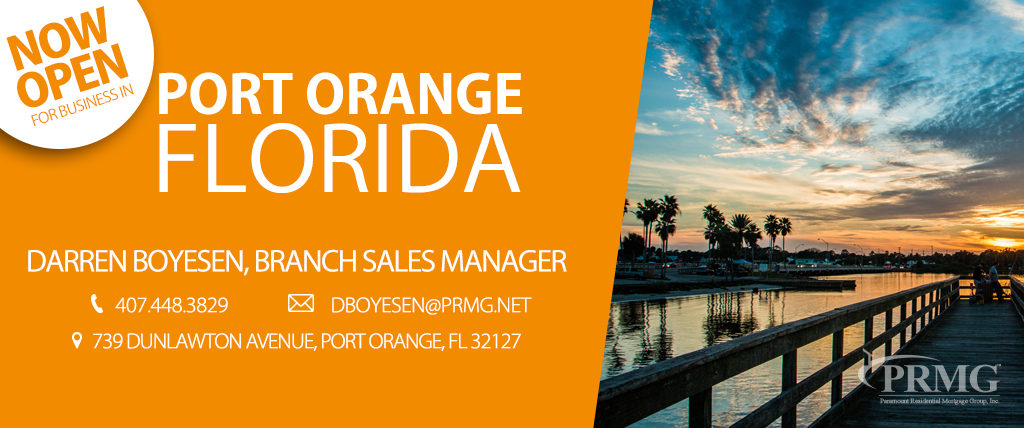 California-based mortgage lender, Paramount Residential Mortgage Group, Inc., is expanding its Southeast region by opening a new Florida location in Port Orange.
The newest location will be managed by sixteen-year mortgage veteran; Darren Boyesen. Darren has worked for Optimum Mortgage Services, Inc., RESMAC, and Hamilton Group Funding, to name a few.
Darren started his career in real estate and then migrated over to the broker side of business, where he opened his very own mortgage company. Primarily his focus was and has been to provide top tier service to all clients and realtors.
"Since the mortgage crisis, I have switched lenders a few times, always needing to improve upon the way we service the public. Since the beginning of this year I have experienced PRMG's corporate systems and service to the public has definitely been always positive. The two areas that I needed great service included underwriting and closing. Our underwriting team, led by Tricia Souza, (she's amazing and saves me countless hours) meets posted turn times, is accessible, works through issues, gives input and options -- they get the job done! I can't say enough about PRMG's closing and funding systems. I used to have to "micromanage" files after they were cleared by underwriters. Once a file is conditionally approved, to be able to get the CD process started and not have to worry about whether or not the closing department will deliver by the closing date, it is such a blessing and saves countless hours of stress. PRMG's CD, QC, Closing and Funding system is virtually "automatic" and it is so obvious that PRMG knows the importance of closing on time as they have bent over backwards to ensure this outcome. Thank you to all the employees and staff at PRMG that work so hard! Thank you to the owners and managers for their vision and commitment to give continually awesome service," said Boyesen.
Darren will work closely with PRMG Florida Regional Manager, Mike Mitchem and ultimately report to PRMG SVP, Director of National Retail Production; Chris Sorensen.
The new PRMG Orange Park location will be opening with a team of seasoned Loan Officers, ready to assist clients in the local community close their loans on time! This location is also looking for Motivated Loan Originators to support the PRMG mission to being "Progressively Better in All that We Do". If you're ready to join a top-tier team in PRMG's newest Florida office, please contact Darren Boyesen at 407.448.3829 or DBoyesen@prmg.net.