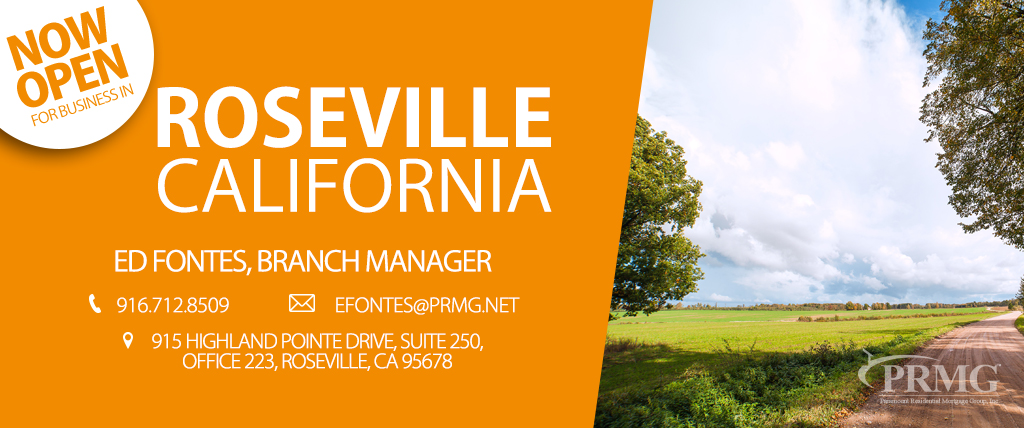 California-based mortgage lender, Paramount Residential Mortgage Group, Inc., is further expanding its West Coast region by opening their new Northern California location in Roseville, CA.
The newest location will be managed by thirty-seven-year mortgage veteran; Ed Fontes. Ed has worked for Paradise Financial, Primary Residential Mortgage, Prospect Mortgage, and Platinum Home Mortgage, to name a few.
Ed has the "in the trenches" experience to help structure the right program for his clients and Loan Officers' Clients. He has been affiliated with only a few regional and super regional companies throughout his career. Ed prides himself in bringing much success to his Loan Officers through continuous mentoring, and education, while still being a Top Producer for his Referral Partners and clients. Ed speaks fluent Spanish and is an advocate of the Hispanic Community, aiding many individuals in his locale with fulfilling the dream of homeownership.
"After researching several companies and options, PRMG has what is needed to help myself as well as any Loan Officer grow their future business with all the right tools, programs, and processes to run and build a sustainable business. I'm very excited to be a part of the new Builder Division, and the PRMG Family! With this new step, I'm prepared to build another amazing lending team with the support of PRMG!", said Fontes.
Fontes will work closely with Judy Hosseini, PRMG Builder Manager and ultimately report to PRMG SVP, Director of National Retail Production; Chris Sorensen.
The new PRMG Roseville location will open with an experienced team of Loan Officers and Sales Assistants, who are ready to assist local business partners close their loans on time. The new location will also be looking for Motivated Loan Originators to support the PRMG mission to being "Progressively Better in All that We Do". If you're ready to join a top-tier team in PRMG's newest Northern California office, please contact Ed Fontes at 916.712.8509 or EFontes@prmg.net.