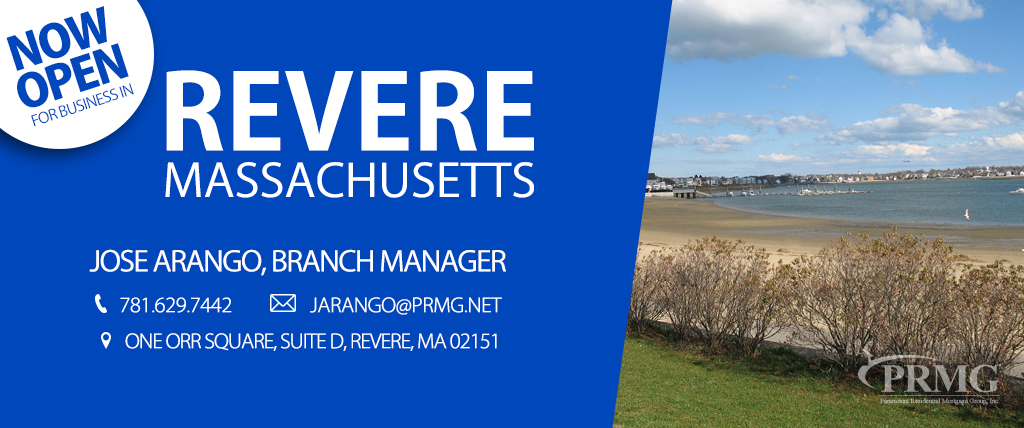 California-based mortgage lender, Paramount Residential Mortgage Group, Inc., is expanding its Northeast region by opening their new Massachusetts location in the historic town of Revere.
The newest location will be managed by sixteen-year mortgage veteran; Jose Arango. Jose has worked for American Neighborhood Mortgage Acceptance Company, First Home Mortgage, MetLife Home Loans, Lighthouse Mortgage Advisers, Lendia, Inc., Harborside Mortgage, and First Boston Mortgage, to name a few.
He has been a producing Mortgage Loan Originator for the last sixteen years, primarily focusing on serving the immigrant community in the Boston area. Being able to communicate in Spanish has created many opportunities for Jose as it has allowed him to generate an unmatched book of business in not only Massachusetts but New Hampshire and Rhode Island as well. Jose's objective to this day is to structure suitable programs, while building long-lasting trusted relationships among clients and business partners in this locale.
"After working for several companies, PRMG is the company I have been looking for. It provides the support that not only my team needs but myself as well, to grow and sustain our business. The tools, processes, and programs PRMG offers plays an important role in our business and allows us to acquire a better presence in this competitive market. Today, I can affirm that I have a world of possibilities for my clients with PRMG", said Arango.
Jose will work closely with PRMG Northeast Regional Manager, Brian Mader and ultimately report to PRMG SVP, Director of National Retail Production; Chris Sorensen.
The new PRMG Revere location is ready to assist clients in the local community close their loans on time! This location is also looking for Motivated Loan Originators to support the PRMG mission to being "Progressively Better in All that We Do". If you're ready to join a top-tier team in PRMG's newest Massachusetts office, please contact Jose Arango at 781.629.7442 or JArango@prmg.net.