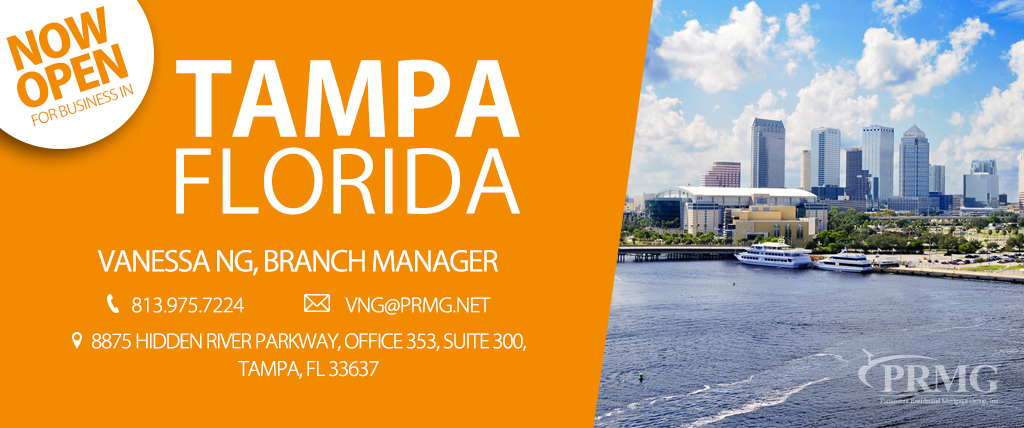 California-based mortgage lender, Paramount Residential Mortgage Group, Inc., is expanding its Southeast region by opening their new location in sunny Tampa, Florida!
The newest location will be managed by five-year mortgage veteran; Vanessa Ng. Vanessa has worked for 1st Financial, Primary Residential Mortgage Inc, CrossCountry Mortgage, PMAC, and Residential Finance Corporation, to name a few.
Vanessa is fluent in English and Cantonese, as she was born in Hong Kong and came to the US along with her parents at the age of five. She attended the University of South Florida (USF) and received a Bachelors in Finance. Two months before graduating from USF, Vanessa attended USF's career fair and was fortunate to land a job opportunity with Residential Finance Corporation as a Loan Officer. She has gained tremendous knowledge through the years including experience with various loan scenarios, starting out in the refinance business and now shifting gears to doing 100% purchase business.
"There's nothing more important to me than closing on time and providing exceptional service to everyone involved in the loan transaction. I'm excited to bring on new ambitious Loan Officer's to my team and show them what it takes to become successful. I believe that my knowledge along with all of the tools that PRMG has to offer will allow my team to overcome any and all objections", said Ng.
Vanessa will work closely with PRMG Florida Regional Manager, Mike Mitchem and ultimately report to PRMG SVP, Director of National Retail Production; Chris Sorensen.
The new PRMG Tampa location is looking for Motivated Loan Originators to support the PRMG mission to being "Progressively Better in All that We Do". If you're ready to join a top-tier team in PRMG's newest Florida office, please contact Vanessa Ng at 813.975.7224 or VNg@prmg.net.