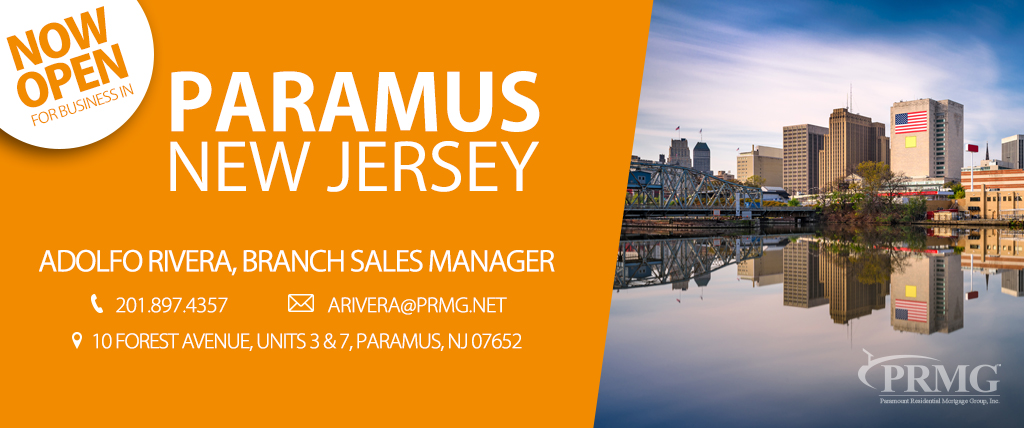 California-based mortgage lender, Paramount Residential Mortgage Group, Inc., is expanding its Northeast region by opening their New Jersey location in beautiful Paramus.
The newest location will be managed by twenty-year mortgage veteran; Adolfo Rivera. Adolfo has worked for Alterra Home Loans, The Money Store, Vanguard Funding, and LendSmart Mortgage, to name a few.
Rivera earned a Bachelors in Mathematical Physics at the School of Cesar Borja in Guayaquil Ecuador. With his extended education and continuous mortgage professionalism over the last twenty years, he has created many top shelf relationships with professionals in the metro area of New Jersey. Being able to speak fluent Spanish and communicate in Portuguese has opened many doors to many new and growing markets in this region.
"Throughout my career, the one thing that has attracted me to any company is the opportunity for not only myself but for my team to grow as a unit. At PRMG, it is known that Progress is Not Possible Without Change, and that hits home for me. Being with a company that focuses on the importance of education, makes continuous enhancements to products for my customers, while providing commercial grade advertising is important to my success. I'm truly excited to see what this new chapter holds for us", said Rivera.
Adolfo will work closely with PRMG Northeast Regional Manager, Ryan Goldsmith and ultimately report to PRMG SVP, Director of National Retail Production; Chris Sorensen.
The new PRMG Paramus location will be opening with a team of seasoned Loan Officers, ready to assist clients in the local community close their loans on time! This location is also looking for Motivated Loan Originators to support the PRMG mission to being "Progressively Better in All that We Do". If you're ready to join a top-tier team in PRMG's newest New Jersey office, please contact Adolfo Rivera at 201.897.4357 or ARivera@prmg.net.