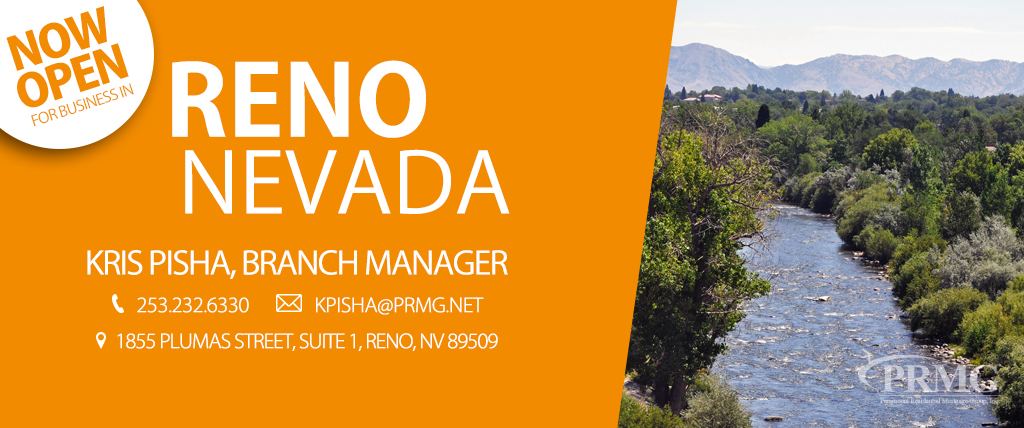 California-based mortgage lender, Paramount Residential Mortgage Group, Inc., is expanding its West Coast region by opening their new Nevada location in Reno.
The newest location will be managed by twelve-year mortgage veteran; Kris Pisha. Kris has worked for Security National, Mortgage Co, Alpine Mortgage Planning and Wells Fargo Home Mortgage, to name a few.
Pisha started his career in the mortgage industry in 2006. After gaining knowledge of the business from the perspective of a Loan Officer, he quickly built a loyal team and eventually became a Branch Manager. Since his arrival at PRMG, Kris initially opened an inaugural branch in Puyallup, Washington and shortly after, opened two additional branches. The introduction of the new Reno, Nevada location will be his fourth location in a matter of a year. Pisha, along with his team have achieved many "first" milestones as they continue to grow and expand their branches into new states.
"One year ago, myself and my team decided to make the switch to PRMG. We are very excited about this opportunity. PRMG is a company that underwrites to FNMA, FDMC, and GNMA guidelines with no overlays. The pricing is great and the compensation plan is amazing. All of our processing and underwriting is done in house, here in Washington. PRMG underwrites all TBD's so you can give your realtors a fully underwritten approval letter before your customer even finds a house. At PRMG, we can get the CD out before we are CTC. The turn times are amazing for underwriting (24-48 hours). These are just a few of the many wonderful things that we can do at PRMG", said Pisha.
Kris will work closely with PRMG Regional Manager, Buddy White and ultimately report to PRMG SVP, Director of National Retail Production; Chris Sorensen.
The new PRMG Reno location will be opening with a seasoned team, ready to assist clients in the local community close their loans on time! If you're ready to partner with a top-tier team in PRMG's newest Nevada office, please contact Kris Pisha at 253.232.6330 or Kpisha@prmg.net.