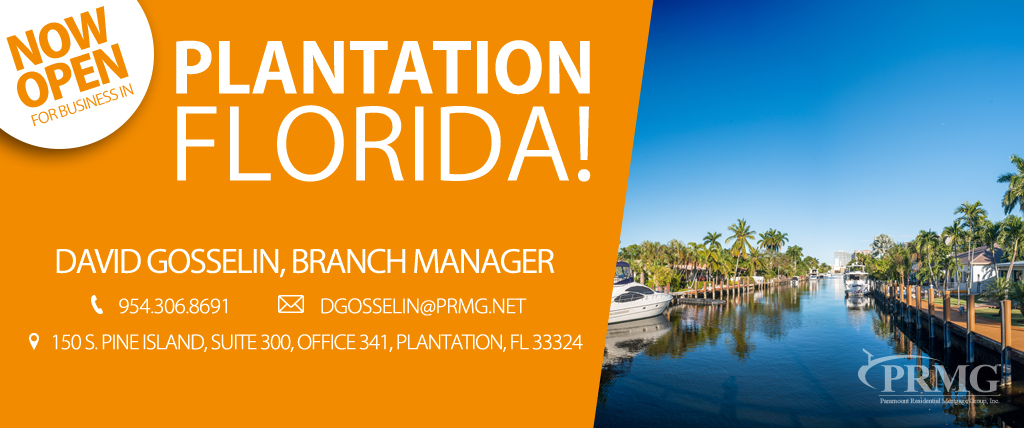 California-based mortgage lender, Paramount Residential Mortgage Group, Inc. is expanding its Southeast region by opening their 47th location in Florida.
The newest location will be managed by twenty-year mortgage veteran; David Gosselin. David graduated with a Bachelor of Arts in Political Science with distinction from the University of Colorado at Colorado Springs in 1997. He has worked for various lenders that include Vintage Mortgage, Circle Mortgage and Hamilton Group Funding to name a few. David started his career with PRMG in March of 2012 and was quickly honored with PRMG's highest distinction; President's Cabinet, in 2013 and 2014.
Gosselin recently closed a home loan for 3MIL in May with PRMG, which is the largest loan amount he has ever closed to date. As a well-seasoned mortgage veteran, backed with the years of experience, in addition to the knowledge of the locale, the new Plantation branch will continue to excel in the marketplace.
"PRMG has great owners who are always there to help you get your loan done. PRMG has Lara Rausch and other's companies don't. Lara Rausch provides a "treasure trove" of information which enables you to close more loans. PRMG has a great deal desk which provides clarity as to what loan scenarios work and what won't work, which saves everyone time and money", said Gosselin.
David will work closely with PRMG Retail VP of Divisional Retail Production; Steve Levine and ultimately report to PRMG SVP, Director of National Retail Production; Chris Sorensen.
The new PRMG Plantation, FL location will open with an experienced team of Loan Officers and Processors, who are ready to assist local business partners close their loans on time. If you're ready to partner with a top-tier team, please contact David Gosselin at 954.306.8691 or DGosselin@prmg.net.